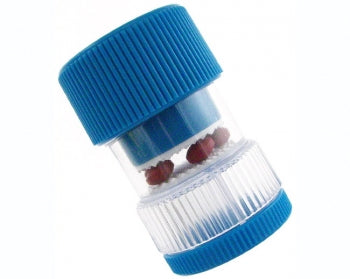 Have Trouble Swallowing Pills? Using a pill crusher may make life much easier.
Pill crusher products are used to make pills easier to consume. If you have trouble swallowing pills, a pill crusher is for you.

Pill crushers are devices used to crush pills that are designed for easy use. Usually, a pill crusher is a container, cylindrical in form and constructed of durable plastic that will have at least one compartment, in addition to the pill crushing area.

With a few simple twists, the pill is crushed into a fine powder. Should the pill crusher have a second compartment, it is usually to catch the pill powder, thus allowing easy management of the newly crushed powder.

Once the pill is crushed, the powder can be mixed with water or food. Care should be taken to take all of the powder, and at the right times.

It is advisable to consult with your doctor, using a pill crusher may make life much easier.
A pill splitter may also be an option.
Click Here to check out the Pill Crusher options available on our site.